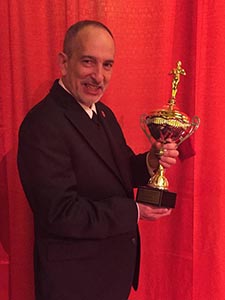 Soke Barr
Soke Grandmaster Larry Barr is a 10th degree black belt and the founder of Seido Ryu Karate. Seido Ryu means "Way of Life Style."
Soke Barr has been training for almost 35 years and has brought up 65 students to become a black belt, with his students winning over ten thousand trophies in competition.
In 2016, Soke Barr was honored by the Hackensack Chamber of Commerce as a Distinguished Citizen of the Year. He has also recently been inducted into the 2018 "Who's Who in the Martial Arts" of the American Martial Art Alliance.
SOKE IS AN ORDAINED MINISTER IN THE MARTIAL ARTS THROUH SHINJA UNIVERSITY UNDER REVEREND JOHN ENGER.
Soke Barr has been inducted into several martial arts Hall of Fame:
ACTION MAGAZINE/ WORLD KARATE UNION/ LEGENDS OF THE MARTIAL ARTS/ MASTERS OF THE MARTIAL ARTS BLACK DRAGON SOCIETY
2013 Teacher of the Year
2014 Man of the Year
2015 School of the Year
2016 Family of the Year
2017 International Grandmaster of the Year (Barcelona, Spain)
2018 Soke of the Year
2019 International Teacher of the Year (London, England)
SOKE IS THE AUTHOR OF "WISDOM FROM THE DOJO AND OTHER TALES"
HIS MISSION IS TO SAVE LIVES THRU THE POWER OF KARATE